Mr Green review our honest opinion. In 2007 three Swedish entrepreneurs, Fredrik Sidfalk, Henrik Bergquist and Mikael Pawlo, decided to found Mr Green. They decided to undertake after working and acquiring the necessary knowledge in one of the leading betting houses in the country, Betsson. In January 2019 it was taken over by British giant William Hill for £242m. They offer sports betting products and casino games.
This company of Swedish origin is a limited company incorporated on the island of Malta. It has gaming licenses in Sweden, Denmark, Malta and the United Kingdom.
During his career he has been awarded for his professionalism, innovation and technological adaptability, and above all for promoting responsible gambling. He has been awarded various prizes such as EGR Marketing and Innovation Awards 2020 – Brand of the Year; IGA 2019 – Live Casino of the Year; EGR Nordic 2019 – Socially Responsible Operator of the Year and Mobile Operator of the Year; IGA 2016 – Innovative App of the Year, or Internet World Top 100 Award – 2014, 2013, 2012, 2011, 2010, 2009.
Mr Green review our honest opinion
Why is Mr Green a safe site? Is Mr Green a scam?
Mr Green is a safe and reliable site and offers all the gaming guarantees stipulated in Spain. Obtained the pertinent license issued by the General Directorate for Gambling Regulation (DGOJ). It meets all the requirements of the DGOJ to offer fun and entertainment through its casino games and sports betting.
MRG Spain Plc operates under Casino licenses number GO/2018/016, RLT/2018/018, BLJ/2018/016 and MAZ/2018/048 and Gambling licenses number GA/2018/020, AOC/2018/015 and ADC/2018/024, granted by the Government of Spain and regulated by the General Directorate for the Regulation of Gambling in Spain (DGOJ)
When choosing an online casino it is important to make sure that it is a legal and trustworthy casino and not a scam. In Spain, the body in charge of regulating and granting gambling licenses is the General Directorate for the Regulation of Gambling (DGOJ). Online casino games and sports betting in Spain have been regulated since June 6, 2012. The DGOJ is a public body under the Secretary of State and the Ministry of Finance.

Games Mr Green Spain
The Swedish company has been one of the last online operators to operate in Spain. Mr Green has a very famous logo, an enigmatic green man with a hat and cane. Legend has it that this man in green grew up in an orphanage until a couple adopted him. The icon of Mr Green is that of an enigmatic, adventurous, altruistic and eccentric character who seeks to help those around him. And the rest is now history.
Mr Green has always distinguished itself by offering innovation, game quality, content diversity and adaptability. It has a really interesting catalog of games and within the reach of few. He came stomping and is still on the road.
However, we think it's hard to find a game. It is useless to have hundreds of casino games if it is not possible to classify them. There is no tool that filters by software providers, themes, jackpots, lines,… It is true that there is the possibility of knowing which games are new or which are the most popular, but you have to facilitate the game and the time for the players. users. Time is money and it flies. Not everyone is interested in playing the most popular games or taking into account the latest news.
Slots Mr Green Spain
Continuing with Mr Green's review our honest opinion, we once again highlight what we have said previously. We like the game catalogue, it's varied, different, with exclusive games, but it's useless to have an impressive catalog if it's more difficult to find a game than a needle in a haystack. It is as important to offer variety as it is that this variety is well presented. It's useless if it isn't. Personally, we are overwhelmed by those pages full of content and that we do not know where to start looking.
They work with top-level software providers such as NetEnt, Novomatic, Playtech, Microgaming, Play n'Go, Evolution Gaming,… And that allows them to have a varied theme: movie slots, series and television, history, mythology and fantastic worlds, action and adventure, sports, nature, classic slots,…
Mr Green Live: Live Games
Live games are an indispensable must in these times and online casinos are very aware of this. The behavior of the players has changed in recent years. Land-based casinos continue to attract many players, but more and more prefer the convenience of online gaming at any time and from anywhere. The industry adapts to the needs to meet the needs of the players.
If Mr Green stands out from the competition for something, it is because of its catalog of live games. It is really impressive. He has to his credit a variety of fascinating roulette games. Impossible to choose just one. We love Roulette XL, Lightning Roulette, Live Fastball Roulette.

Welcome bonus
"According to the Royal Decree of Commercial Communications 958/2020, casinos in Spain cannot offer bonuses to new players from May 1, 2021. Promotions are only available to players 30 days after registration and verification of the check".
So if you want to get a welcome bonus or any other bonus, we recommend that you go directly to the operator's website and there you can get all the information you need. Review Lowen Play our honest opinion, bonuses.
How to start playing in Mr Green?
If you want to play at Mr Green it is essential to open an account at the online casino. In just a few minutes you can have an account and start playing.
Access MrGreen
Click on registration and add an email.
Fill in the required fields, username and password, date of birth, ID, address,…
Verify and send the necessary documentation.
Deposit money
Enjoy and play responsibly.
The game is safe as long as it is played with caution, prudence and responsibility. Otherwise it can become an addiction. Play responsibly and play for fun. You should also know that lucrative gambling in Spain is only allowed for adults over 18 years of age. Minors cannot play physically or online.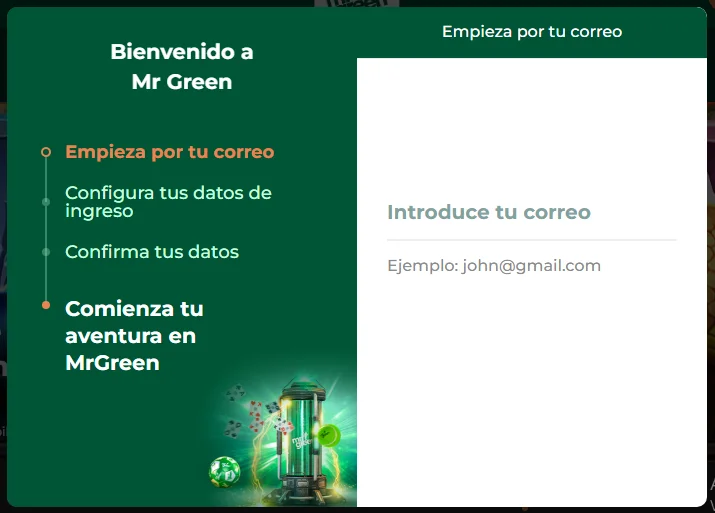 Métodos de pago aceptados en Mr Green
Mr Green Review our honest opinion on payment methods. Another of the most important aspects that we address in this Lowen Play review, our honest opinion, is the payment methods. A very important aspect to take into account.
What Payment Methods are accepted at Mr Green?
Tarjeta de Crédito/Débito
transferencia bancaria
Muchbetter
PayPal
Paysafecard
Neteller
Skrill
Mr Green App
Another of the fundamental aspects of an online casino is having an app. Mr Green currently does not have a mobile application. A pity, really. It has surprised us for bad and we say it because Mr Green is a benchmark in innovation and technological adaptability. And he has been awarded for it. What makes us think is that probably in other countries where Mr Green operates there is an app. In fact, it was awarded the IGA 2016 – Innovative App of the Year. Whatever it is, it penalizes the online casino.
Contact Mr Green Spain: Customer Service
Let's take a look at the customer support Mr Green players receive. We have contacted your agents on several occasions and the truth is that they are efficient, decisive and attentive. A point in favor of Mr Green, since we personally believe that customer service is a fundamental aspect. It is useless to have an incredible portfolio of games if when you have a problem they do not solve it quickly.
Live chat is only available from Monday to Sunday from 10am to 10pm. If you wish to contact via email you can do so through this email, [email protected].
Markets in which Mr Green operates
After the acquisition of the MRG group by the British William Hill LTD in 2019, they have a license in ten countries, including Sweden, Denmark, Malta, the United Kingdom or the United States.
It has international and national licenses, as is the case in Spain.
Pros and cons
Pros
Trajectory and history of the operator
live games
Payment methods
Cons
They don't have an app
They don't have 24/7 customer service.
Declassified Game Catalog
Our experience and how Mr Green could improve
Mr Green is an online casino with a great international experience and where it goes it succeeds. And it doesn't surprise us because the gaming experience is very positive. It has an attractive and colorful interface. However, if it stands out for something, it is for its enigmatic Mr Green. A mysterious character who captivates and seduces in equal parts.
As we said at the beginning of the Mr Green Review, our honest opinion is that they have an unbeatable portfolio of games. However, it is useless because everything is declassified. It's hard to find a game if you don't know the title. It is not possible to filter by theme, something basic. Neither by provider, unthinkable. They also do not show the jackpots. An attractive aspect for users.
We have also been disappointed that they do not have an app for mobile devices. In the 21st century, it seems to us a delay that they do not offer a tool like that for their players, since they are practical and very effective. So we entrust you to do it as soon as possible. Regarding customer service, we find it efficient and decisive, but we do not like that it is not available 24 hours a day. The player needs immediate resolution of their problem or doubt and it cannot be postponed, on some occasions, to the next day.
What we like about Mr Green is the game catalog for its great variety and latest news. It has a wide range of themes and games that players surely know how to value positively.
Mr Green review our honest opinion