The creepiest, scariest and funniest night of the year is about to begin. Ancient mummies, dancing skeletons and witches with their spells begin the night of Halloween 2019. Some casinos in Spain have to join this international party with promotional bonuses for their players. So you do not waste time searching in each casino, from Secret Casino Tips we present you Halloween Bonuses 2019 in Spain.
Casino Gran Madrid
Without a doubt, you will find the best Halloween offer on the internet at Casino Gran Madrid. The friends of this casino have literally gone crazy and decided to distribute 10,000 euros in prizes. Halloweek has 5 special promotions: Halloween Mission, Slot Tournament and 3 surprise promotions. Check out the Casino Gran Madrid promotion and play and win money!

Wanabet
Halloween in Wanabet is coming out and they distribute nothing more and nothing less than 2,500 euros. Join the Halloween Sltos Tournament and play one of the following slots: Extrareel Magicpot, Ghosts Night, Blood Suckers II, Halloween Jack, Halloween, Zombie Hoard, Haunted Mansion and The Fortune Witch. More info: Wanabet.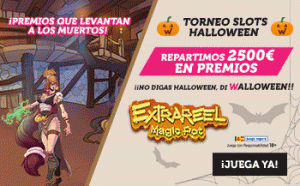 Luckia
During the week of October 28 to 31, Luckia hands out 10 euro casino bonuses. Luckia's Bonween is only valid for slots: Explosive Pattern, Halloween Jack, Lost Vegas and The Haunted Mansion. More info at Luckia.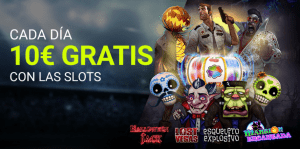 777.es
The 777.es casino has two Halloween related bonuses: Halloween Roulette and Hallowen Draw. They are valid from Monday, October 28 to Sunday, November 3. For any additional information consult the website and the promotion at 777.es
Paf
Squash pumpkins and win succulent prizes during Pumpkin Mania Week. The promotion is available during the week of Halloween: from October 28 to November 3 and is valid only in slot games. Check the promotion rules and regulations at Paf.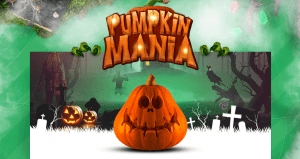 Betway
Betway throws the house out the window during the month of October and to commemorate Halloween they distribute 1,500 euros among their players. It is valid for some slot games such as: Aurora Wilds, Book of Oz, Lara Croft Temple and Tombs, Sapphire Roulette or The Twisted Circus. Promotion valid from October 7 to November 3. For any additional information consult the website and the promotion of Betway.

Betsson
Betsson has 5 very special and terrifying missions for all his players. The promotion is available from October 28 to November 3. Do not think about it and enjoy Halloween night. For any additional information consult the website and the promotion of Betsson.
eBingo
Which do you prefer: Trick or turn? These are the options that eBingo grants during the week of Halloween. eBingo gives away free casinos to play live roulette. The 3 users who play the most money will receive 5 euros in casino bonus. If you want more information, go to the website of eBingo.
Paston
Do you want to be one of the lucky ones to take a pinch of the 6,000 euros that Paston distributes? For this it is necessary that you join the Special Slot Tournament Halloween that they have available from October 28 to November 3. Check the bases on the web of Paston.
StarVegas
Get free spins, cashback bonuses, or sign-up bonuses and double the benefits you get in the scariest week of StarVegas. Each player will be able to use any of the prizes that are awarded during the 27 to the 31 of October only once. More information in StarVegas.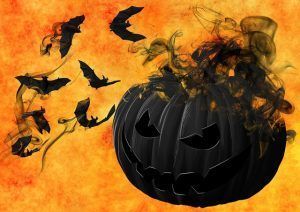 Sportium
Sportium rules its users 5 free spins every day upon login. Do not miss this great opportunity to turn and play. Those users who sign up for the challenge of the day and manage to overcome it get an Extra Prize. Check the website and the promotion of Sportium.
Have you already read our Top 10 Slot Halloween article? Don't miss it!