Botemania review our honest opinion. Botemania, "The House of Boats" is a company operated by Gamesys Spain, S.A. that offers games of bingo, blackjack, roulette, slots. Botemania has its headquarters in Ceuta, specifically at Paseo de la Marina Española 24, Entreplanta.
Its origin dates back to 2007, and it was in 2012 with the regulation of gambling in Spain when it obtained the license issued by the DGOJ. It currently has more than a million registered users.
Botemania review our honest opinion
Why is Botemania a safe site? Is Botemania a scam?
 Botemanía  is one of the many online casinos that operate in Spain. Is it a safe casino? One of the biggest concerns of new casino users is to know if it is a legal and safe casino or if, on the contrary, it is a scam. In this case, we can guarantee that Botemania is a 100% safe casino, since it has the corresponding licenses to be able to carry out games of chance in Spain.
Botemania- Licensed and regulated in Spain by the General Directorate for the Regulation of Gambling with the general license number 175/GO/1030 and the individual licenses for Bingo 177/BNG/1030, Roulette 176/RLT/1030, Blackjack 178/BLJ /1030 and Slot Machines 349/MAZ/1030.
In Spain, the body in charge of regulating and granting gambling licenses is the General Directorate for the Regulation of Gambling (DGOJ). Online casino games and sports betting in Spain have been regulated since June 6, 2012. The DGOJ is a public body under the Secretary of State and the Ministry of Finance.
Games Botemania Spain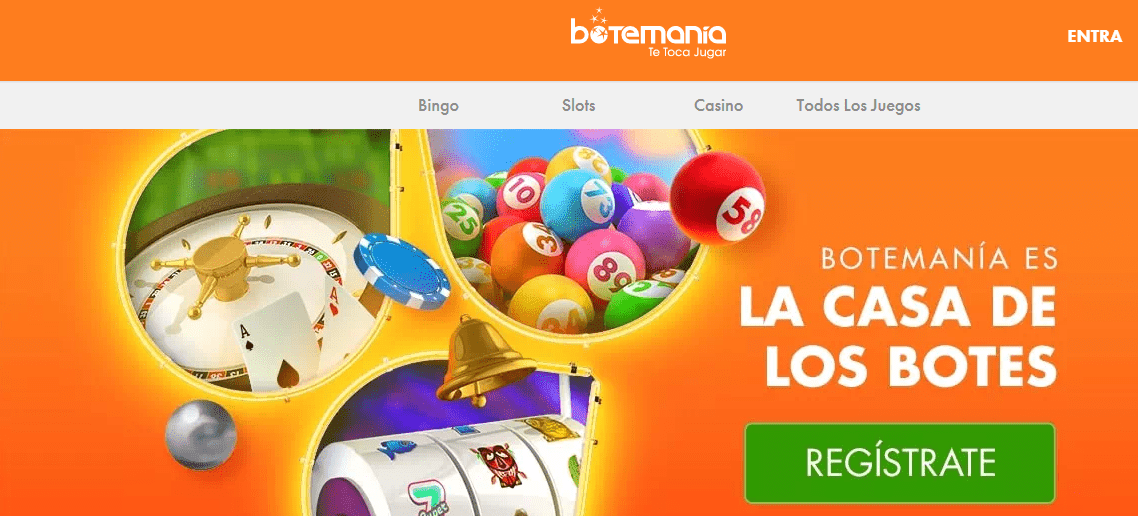 Botemania is an online casino where gaming and fun are guaranteed thanks to its multiple games of chance. The website is simple and functional. Gamesys Spain has general licenses and specific licenses, including slot machines, blackjack, roulette and bingo.
If Botemania stands out from the competition for something, it is because of its bingo games section. Yes, Botemania emerged as a portal to enjoy bingo games, something so typical Spanish. An opportunity to play from where enjoying the excitement of bingo and get immediate prizes. And it stands out for the progressive jackpots that any player can win.
It also has a section for blackjack, keno, videopoker and roulette games. To say that the offer is insufficient is to fall short. Botemania is an operator that has a small catalog of games, and the user notices that. It has interesting titles, but the variety is far from being compared to other average operators or any giant in the industry. Increasing the catalog must be an immediate priority.
Botemania Slots
"If this is about Jackpots, it's because of our Slot Games with Progressive Jackpots." They have only 200 titles with different themes and for this reason it is necessary to emphasize some other aspect that differentiates them from the competition, in this case the jackpots. Up to 20 progressive jackpots available. And it is that in Botemania, the boats are a must.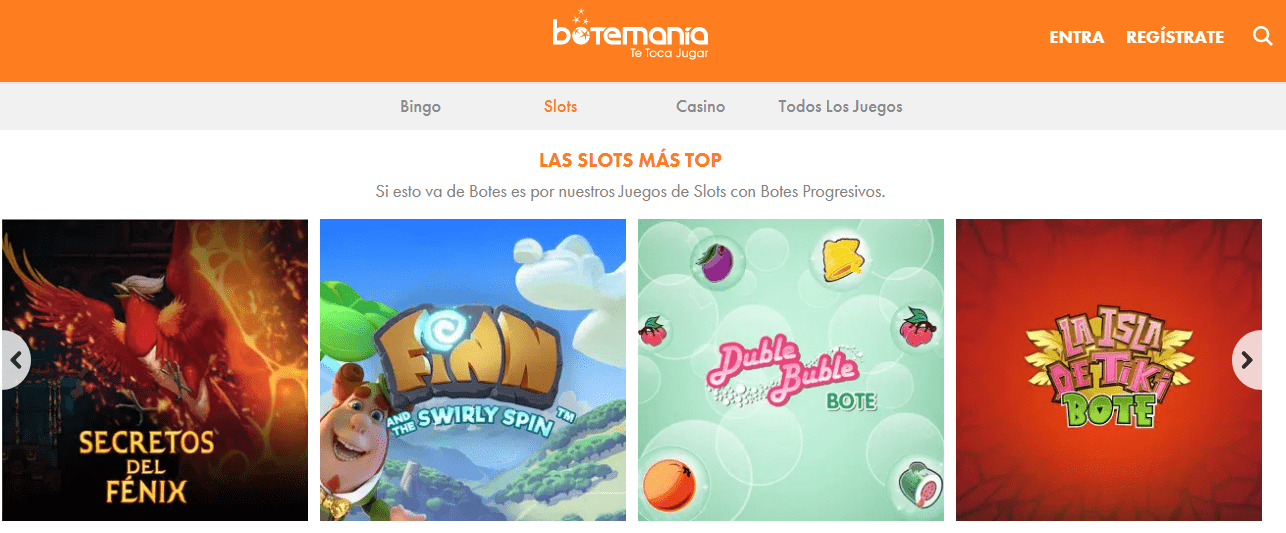 Of course, the games are varied and cover all themes, from the most classic to the most modern slots (adventures, fiction, film and television, reality shows, sports,…) Do you know which titles are most in demand by players? of Botemania? There You!, Tiki Temple, Wonderland, Bingote, Gold Mine, Super Bingo, Cleopatra, Dance of Diamonds, among others. Are any of these slots your favourite?
Botemania live games
In recent years the popularity of live games has become one of the preferences of the players. Online casinos need to always be at the forefront of the latest trends and have the latest technology to please their customers. Any giant in the industry is aware of this need, knowing that otherwise it may be left behind. The gaming industry is competitive and extremely tough.
It is a pity that Botemania does not have live games (we rectify, he only has two), since he is sure that his clients would appreciate it very much. Now it is no longer enough to have applications, live games are also necessary. The adrenaline of playing from anywhere and being able to interact with the dealer and see what other players are doing online is a must.
Welcome bonus
"According to the Royal Decree of Commercial Communications 958/2020, casinos in Spain cannot offer bonuses to new players from May 1, 2021. Promotions are only available to players 30 days after registration and verification of the check".
So if you want to get a welcome bonus or any other bonus, we recommend that you go directly to the operator's website and there you can get all the information you need.
How to start playing in Botemania?
If you have opted for this Spanish operator, you should know that the first thing you have to do is register as a new user. It is necessary to meet two requirements: be of legal age and reside in Spain. Remember that the game can cause addiction, always play responsibly.
Access Botemania casino.
Fill in the data, date of birth, ID, email, address,…
Verify and send the necessary documentation.
Deposit money
Enjoy and play responsibly.
Payment methods accepted in Botemania
Payment methods are accepted at Botemania?
VISA
MasterCard
paysafecard
PayPal
Botemania app
One of the points to emphasize about Botemania is that it has a free app. This app is available for both iOS and Android devices. How can you download the Botemania app? Nowadays you can only download the casino apps through the website itself. The app has all the games, promotions and services than the desktop version.
Contact Botemania Spain: customer service
One of the most important aspects of online casinos is customer service. Not everyone works and it is very important because it defines the casino itself. Top-tier casinos must have an excellent, efficient, and responsive service. It is useless to have a wide catalog of blackjack, roulette, bingo or slots games if when a player has a problem, a question or a complaint there is no one to solve it.
In the case of Botemania there are three quick ways to contact, chat, phone and email. Without a doubt, most users choose chat. To access the chat, click on the help option (you will find it at the bottom of the web). You also have the telephone number 93 122 70 75 or the email to [email protected]. The problem we have encountered when playing in Botemania is that the hours are not available (Monday – Friday: 10 a.m. to 12 p.m. Weekends and holidays: 12 p.m. to 12 p.m.).
Markets in which Botemania operates
Botemania currently operates in Spanish territory. We do not know if in the future they will decide to expand and offer their product in other countries.
Pros and cons
Pros
User reputation
bingo games
apps
Cons
Insufficient catalog of blackjack or roulette games
Poor offer of live games
Few payment methods
They don't have 24 hour chat
Our experience and how Botemania could improve
Botemania began its journey in 2007, this year marks its 25th anniversary. In these more than two decades he has managed to reap successes and that is due to the good reputation he has from users. Although it is true that there are also complaints about them, especially regarding problems with the withdrawal of deposits. However, something positive must be seen by the players, since they have more than a million customers and growing.
Our experience has not been bad. It works correctly, however we believe that it has too many shortcomings that make it a mediocre operator. Mediocre sounds horrible, so let's explain why. In the first place, the offer of games is insufficient. 200 slots does not seem too many to us, it is an interesting figure, but nothing more.
If there is something to urgently improve, it is the blackjack and roulette games. You can't want to be among the best when you don't have an offer for everyone. And what to say about the offer of live games. Two. One and two. No more.
Regarding the payment methods, say that we find them insufficient. Yes, they have Visa, Mastercard, PayPal and paysafecard, but we find little diversity.
And finally the issue of customer service. An online operator must have service 24 hours a day, any day of the week. Problems do not always arise during office hours, and the person who decides to play, have fun and deposit their money needs immediate feedback.
Not to mention how complicated it is to find the information.
Among all the negative, we highlight the commitment to responsible gaming as positive. Something fundamental and very important in these times. Although the game is safe, there are always people who do not play exclusively for fun and that must be eradicated. Playing with your head is necessary, responsibly. Gambling can lead to serious addiction problems.
Botemania review our honest opinion. What opinion do you deserve?