eBingo review our honest opinion. One of the benchmarks for gambling in Spain is eBingo. A company of 100% Spanish origin that has more than forty years of experience in Spain. In 2012 they were one of the first operators to make the leap and open the online market. At first his online gambling focused on bingo and blackjack games.
eBingo has 35 face-to-face bingo halls spread throughout the Spanish geography. The emotion of the game is lived in eBingo.
eBingo review our honest opinion
Why is eBingo a secure site? Is eBingo a scam?
If something brings players to the head, it is knowing how to discern if the online casino in question is legit or if, on the contrary, it is a scam. It is the first thing a player should check. The choice of a casino is key if we do not want headaches.
eBingo was one of the first casinos to go online in 2012 and did so in compliance with the law. It obtained the pertinent licenses from the Direccion General de Ordenación del Juego. So we can ensure that eBingo is a reliable online casino.
eBingo general license (reference number 211-11/GO/A86350485/SG) and private licences.
In Spain, the body in charge of regulating and granting gambling licenses is the Direccion General de Ordenación del Juego (DGOJ). Online casino games and sports betting in Spain have been regulated since June 6, 2012. The DGOJ is a public body under the Secretary of State and the Ministry of Finance.
Games eBingo Spain
eBingo is one of the most popular online casinos in Spain. They have more than forty years in the gaming industry, but if they are still active it is because they have earned the trust and respect of the players. The players are the ones who rule.
In its origins, eBingo mainly bet on bingo games, a sector that it dominated perfectly. Little by little it was increasing its catalog of games and offering fun and entertainment in abundance.
At present they only have about thirty bingo games, a fact that has not gone unnoticed by us. Business is changing and companies seek to satisfy the interests of the players.
It currently has an interesting portfolio of slots and roulette. However, if they sin for something, it is for not having too many blackjack games.
The eBingo software providers are Microgaming, MGA, R.Franco, Zitro, and Evolution Gaming. Regardless of the games on offer, their quality is second to none. These are top tier providers.
Más información sobre este texto de origenPara obtener más información sobre la traducción, se necesita el texto de origen
eBingo slots
The slots have become unique and exclusive pieces. Today they are almost works of art. Software providers work tirelessly to create exciting and interesting slot games. Always with the best technology, design and music.
eBingo has an interesting catalog of games. It is true that it does not have a very extensive catalogue, but the games it does have are incredible. Surely any player will find one that suits his needs and preferences.
What we liked the most is the ability to filter by provider, news, alphabetical order, number of reels, popular, jackpots, or by theme. It has all the themes: animation, classics, mythology, history, cinema, fantasy, science fiction, adventures, sports,…
eBingo live games
Live games have become very popular in recent years. Player trends change and online casinos feel the need to adapt. Years ago the only way to play casino was by going to a live casino. That prevented many players from being able to enjoy the game.
The technological age allowed the possibility of playing ONLINE. And today technology allows you to play from anywhere and feel the excitement as if you were there. Live games have a dealer and players can chat and answer questions.
eBingo has a correct catalog of live games. They have seven live roulette games, among which are Fastball Roulette, Lightnight Roulette or Live Roulette.
Welcome bonus
"According to the Royal Decree of Commercial Communications 958/2020, casinos in Spain cannot offer bonuses to new players from May 1, 2021. Promotions are only available to players 30 days after registration and verification of the check".
So if you want to get a welcome bonus or any other bonus, we recommend that you go directly to the operator's website and there you can get all the information you need.
How to start playing in eBingo?
The emotion of the game is lived in eBingo. If you have decided to bet and you are a new client, we will explain how to start playing in this operator. It is simple and fast. It will not take you more than a few minutes.
Access the eBingo site
Click on register
Complete the entire form, personal data and user data.
Send the necessary documentation.
Make a first deposit.
Play
Responsibility in the game. At Secret Casino Tips we appeal to the individual responsibility of the players. Gambling can become addictive if not played responsibly. The lucrative game is only valid for people over 18 years of age.
Payment methods accepted in eBingo
What payment methods are accepted at eBingo?
Visa
Mastercard
PayPal
Transferencia bancaria
Skrill
Salas eBingo
eBingo app
Más de cuatro décadas de historia demuestra que eBingo es un operador que sabe adaptarse a los tiempos y que es consciente de la necesidad de estar siempre a la vanguardia tecnológica. Por eso nos extraña que no dispongan de app.
Contact eBingo Spain: Customer Service
Customer service is the letter of introduction of any online casino. It is for this reason that operators need to have excellent customer service. This must be effective, fast and decisive.
eBingo has a live chat. Hours of operation are Monday through Friday between 10 a.m. and 1 p.m. or 3 p.m. and 11 p.m. On Saturdays, Sundays and holidays from 3:00 p.m. to 11:00 p.m. They also have a telephone number: 900 802 165 or email [email protected].
On the Help and Frequently Asked Questions page, customers can resolve the most common doubts and questions.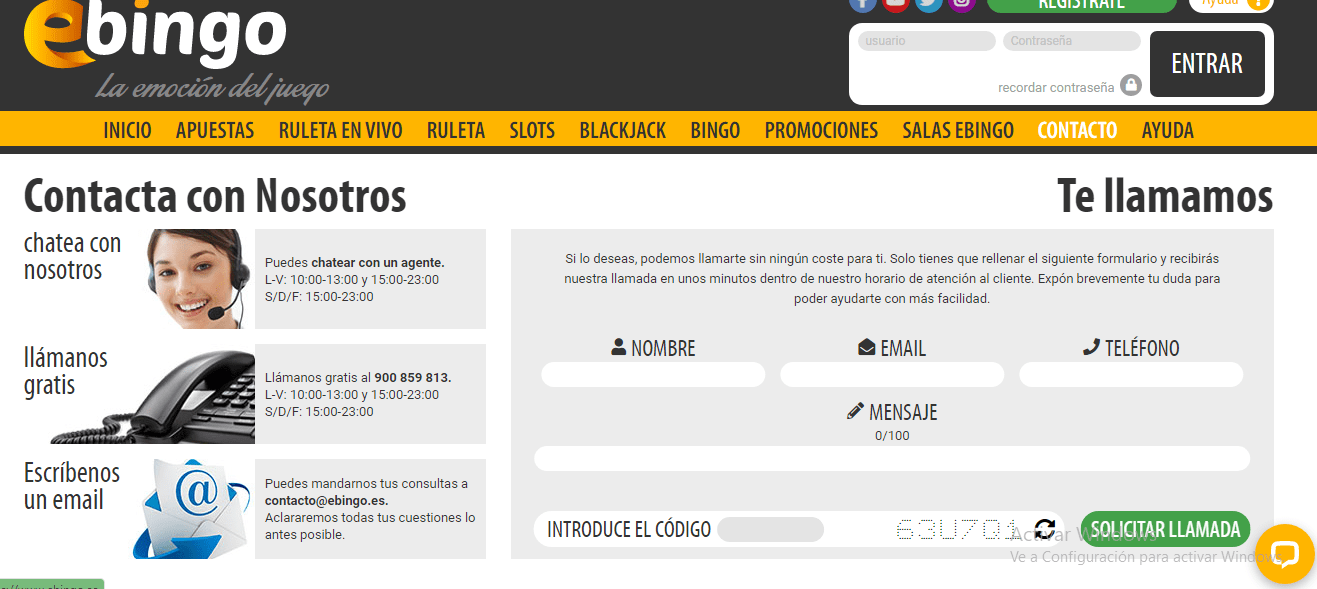 Pros and cons
Pros
Company track record
live games
Payment methods
Cons
Chat service not 24h
No app
Our experience and how eBingo could improve
Four decades of history are more than enough to say that eBingo is a valid option. The operator of Spanish origin has known how to adapt to the times and the players have always been on his side. It is a very popular online casino among players thanks to its transparency, good gameplay and its catalog of games.
eBingo will always be a benchmark in bingo games, but it has been able to adapt and today presents different lines of business, casino and sports betting. Betting is an important part of their business as they are booming. And on the other hand, casino games, blackjack, roulette and live roulette and especially slots. The sum of everything is the result of an operator with good benefits.
However, there are some aspects to improve such as customer service. We are not referring to the technicians who are solving the doubts or problems of the users, but to the time availability. A first level operator like eBingo should have a 24 hour service. It is necessary, since not all doubts or problems arise during the day.
The payment methods are sufficient, although we would like them to have some more. In recent years, casinos have opted for bizum.
We cannot end our review without mentioning something important and essential: responsible gambling. eBingo is an operator with the guarantees of social responsibility. Gambling can cause addiction. Caution and responsibility.
eBingo review our honest opinion. What opinion do you deserve?