MarcaApuestas review our honest opinion. One of the first companies to acquire the license to operate in Spain in 2012 was Marca Apuestas through Unidad Editorial de juegos (currently Bet On Red Digital SAU). It has a license for the operation of bets and contests, blackjack and roulette games, and slot machines. It is currently based in Ceuta.
The rapid expansion and consolidation of the brand online was partly due to the prestige of the sports newspaper. Marca is the most read sports newspaper in the country. This editorial group is also made up of El Mundo, Expansión and Telva, among others.
MarcaApuestas review our honest opinion
Why is MarcaApuesta a safe site? Is MarcaApuesta a scam?
As you may have already guessed, MarcaApuesta is a safe and reliable site. A betting and casino games site suitable for gambling according to current regulations in Spain. If you have not yet opted for an operator, MarcaApuestas is a 100% safe site and it is not a scam.
One of the things to take into account when choosing a casino is that it has a license. In Spain, the body in charge of regulating and granting gambling licenses is the Dirección General de Ordenación del Juego (DGOJ). Online casino games and sports betting in Spain have been regulated since June 6, 2012. The DGOJ is a public body under the Secretary of State and the Ministry of Finance.
MarcaApuestas Spain games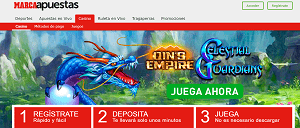 MarcaApuestas is celebrating in 2022 and it is that they celebrate 10 years in the online gaming industry. The business group Unidad Editorial de juegos decided to bet on the online sector and was right. After a decade in the market, it is positioned as one of the giants in the online gaming sector. A risky bet and it is not easy to stay in such a competitive and changing sector.
The diversity of games, the transparency in the payment and the brand itself place MarcaApuestas as one of the operators best valued by users. Bet On Red Digital, SAU currently has general licenses for bets, contests and other games. In addition to unique licenses for Roulette, Black Jack, Punto y banca, Slots, sports betting, other counterpart bets and contests.
It cannot be ignored that MarcaApuestas is an operator mainly of sports betting. You have endless possibilities to bet on different sports competitions. Without a doubt, football is the star of this online portal, both in LaLiga and in other competitions inside and outside Europe.
In relation to the casino section, the games section should be improved, both blackjack and roulette, baccarat,… Since it is conspicuous by its absence. However, if it stands out for something, it is for its slot games section.
MarcaApuestas slots
The gaming industry moves thousands of billions a year both in Spain and in other countries. Online gaming has been consolidated, and even according to data from the Player Profile, more and more users are opting for online gaming over physical gaming, especially among younger players. And it is that the ease of playing when or where the player wants is of the utmost importance and the industry is aware.
If there is a casino game that makes a difference compared to the rest, it is the slots. The industry works hard to offer attractive, different games, full of emotion and truth. In recent years the popularity of slots has grown and no wonder. Some seem real, surround music, software development or being close to reality make them build cutting-edge slots.
The star product of the MarcaApuesta casino is the slot machine games. It is so important for this operator that it has a specific section. They have an infinite number of games of all themes, and they usually include new ones. They call them What's New and can be easily found thanks to subcategorization. In addition, they are also categorized by Slot bar, Celebrities&Tv, Most played, Jackpots or All. The main provider of games is Playtech.
MarcaApuestas Live games
Enjoying live games is a reality at MarcaApuestas. In this case, the operator only has roulette games, although it must be recognized that it has an interesting variety: Live Express Roulette, SlingShot Roulette, European Roulette and French Roulette, or Mega Fire Blaze Roulette, among others.
Live dealers thanks to the latest technology that allows you to feel the excitement of online gambling without having to leave your home. An almost real experience and it is that you can interact both as the dealer and with the rest of the players. It is the last great bet of online casinos. Some time ago it was something new, today it is a necessity if you want to compete on an equal footing with the rest of the casinos. Live the emotion of the live games from any mobile device.
Welcome bonus
"According to the Royal Decree of Commercial Communications 958/2020, casinos in Spain cannot offer bonuses to new players from May 1, 2021. Promotions are only available to players 30 days after registration and verification of the check".
So if you want to get a welcome bonus or any other bonus, we recommend that you go directly to the operator's website and there you can get all the information you need.
How to start playing at MarcaApuestas?
To be able to play in MarcaApuestas it is necessary:
Access the MarcaApuestas website.
If it is the first time you access and you are new you must register. To do this, you must specify your name and surname and provide other information such as date of birth, ID, email, address,…
Create a username and password that will allow you to enter MarcaApuestas.
Verify and send the necessary documentation. Remember that only those over 18 years of age can play games of chance.
Enjoy. Remember to play responsibly.
Payment methods accepted in MarcaApuestas
What payment methods are accepted at MarcaApuestas?
Visa
Mastercard
Maestro
Diners Club
Visa electron & Delta
Paypal
Entropay
Skrill
Paysafecard
MarcaApuestas app
The MarcaApuestas App allows players to easily and quickly access the games from any device, be it Android or iPhone. From the application you can bet, make deposits or withdrawals, see all the games, discover exclusive promotions for customers with more than 30 days of service,…
Contact MarcaApuestas Spain: Customer Service
Customer service is one of the most important, since they have direct contact with users. And it is that if the client is satisfied, he will surely return, recommend it and play. And there is nothing an operator could like more than creating a lasting bond.
On the right hand side of the MarcaApuestas website you will find a "Help" tab. Click on it if you need to contact the customer service department. The fastest way is through the chat service. However, this service is not operational 24 hours a day, only from 9 a.m. to 11 p.m. Too bad a gaming titan doesn't have 24/7 service. Customers need instant solutions, not having to wait.
In addition, it is also possible to contact via email [email protected], telephone 900 87 60 06 or postal mail (Department of BET ON RED DIGITAL S.A.U., a Spanish company, with address at Calle Independencia, 11, mezzanine, C.P. 51001 Ceuta, Spain).
FAQs MarcaApuestas
requently Asked Questions/FAQs MarcaApuestas can help you solve the most common doubts or questions. Do not hesitate to dive into this section, but if you do not find an answer, contact them through chat, phone or email.
If you do not wish to contact us via chat, telephone, email,… perhaps the FAQ section can resolve the question or problem you have. Do not hesitate to dive into this section, but if you do not find an answer, contact customer service.
Markets in which Marca Apuestas operates
Currently the only market that MarcaApuestas operates is Spain. In order to play, it is necessary to have documentation issued in Spain and to reside in Spanish territory. Otherwise it is not possible to access or open an account.
Pros and cons
Pros
Operator reputation
Games: slots
Payment and withdrawal methods
apps
Cons
It only has live roulette gamesNo chat 24/7
Our experience and how MarcaApuestas could improve
The best-selling sports newspaper in Spain launched a project a decade ago that today is solvent and reaps a great reputation from users. It has known how to take advantage of the media and marketing pull that it entailed in its beginnings, but at the same time it has managed to make a name for itself in this complex world.
MarcaApuestas has managed to create a halo of security thanks to its tenacity, its effort for a job well done, the transparency of the game, for caring for and watching over the player himself. Today, MarcaApuestas is a benchmark in Spain. The brand is synonymous with credibility and good play. They have been promoting responsible gambling for a long time, which is so necessary in recent times. And it is that the game is safe, as long as it is played responsibly.
Our gaming experience has always been positive. A simple interface, meticulously cared for and with a well-made product. And it is that when things are done with love, effort and dedication, the client notices it. It is true that there are aspects to improve such as more table games, incorporating live blackjack games,… but in general it is a competent operator.
The only real one is that they do not have a chat service 24 hours a day. Personally we think it is necessary to have it and it is that problems do not always arise during the day, at night there may also be doubts. And having to wait for the next day does not seem like the best option. However, the customer service is fast and efficient and above all attentive.
MarcaApuestas review our honest opinion. What opinion do you deserve?