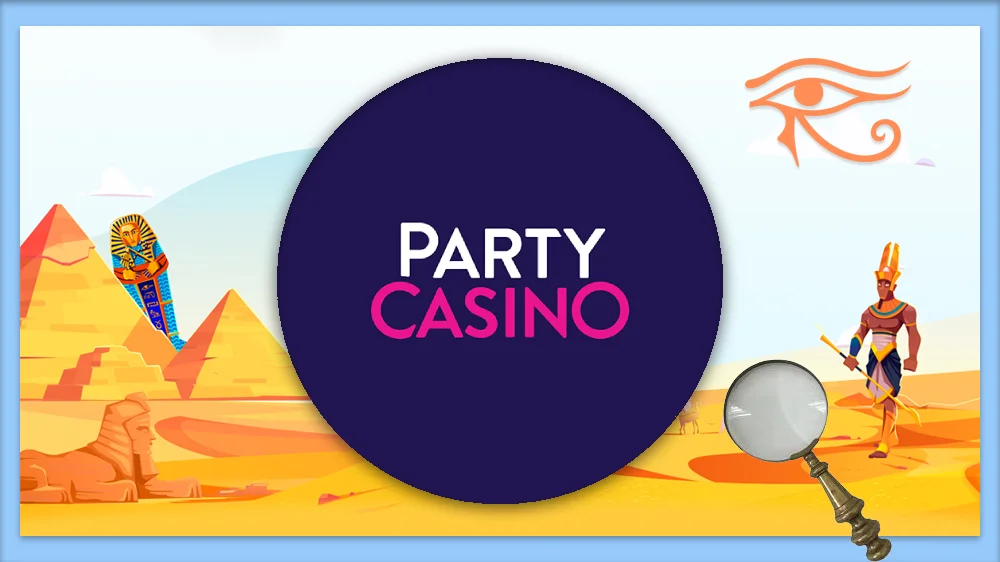 PartyCasino Review our honest opinion. PartyCasino is an international operator that has been operating in Spain since 2019 through one of the industry giants, ElectraWorks (Ceuta) SA. It has four well differentiated products: sports betting, poker, casino games and bingo.
PartyCasino belongs to a business group that includes other large operators such as Bwin, CasinoClub, Betboo, PartyPoker, PartyCasino, SportingbetFoxy Bingo and Gioco Digitale. It is listed on the London Stock Exchange.
February 1, 2016G, GVC acquired bwin.party digital entertainment. The business group is based on the Isle of Man, although PartyCasino Spain is based in Ceuta.
PartyCasino review our honest opinion
Why is PartyCasino a safe site? Is PartyCasino a scam?
When choosing an online casino it is important to make sure that it is a legal and trustworthy casino and not a scam. In Spain, the body in charge of regulating and granting gambling licenses is the General Directorate for the Regulation of Gambling (DGOJ). Online casino games and sports betting in Spain have been regulated since June 6, 2012. The DGOJ is a public body under the Secretary of State and the Ministry of Finance.
PartyCasino is a 100% safe and legal site. It meets all DGOJ requirements to offer fun and entertainment through its casino, bingo, poker and sports betting games. As can be read on its website, in 2019 it obtained the necessary licenses to operate in Spain.
General licences: OTHER GAMES No/Ref: 5-11/GO/N0461246A/SGR and GAMBLING No/Ref: 6-11/GA/N0461246A/SGR, and the following individual licenses: GAMBLING MACHINES No/Ref: MAZ/2014 /014, ROULETTE No/Ref: 8-11/RLT/N0461246A/SGR, BLACKJACK No/Ref: 9-11/BLJ/N0461246A/SGR, COUNTERPARTY SPORTS BETTING No/Ref: 10-11/ADC/N0461246A/SGR , OTHER COUNTERPARTY BETS No/Ref, AOC/2021/026 and POKER No/Ref: 11-11/POQ/N0461246A/SGR.
Games PartyCasino Spain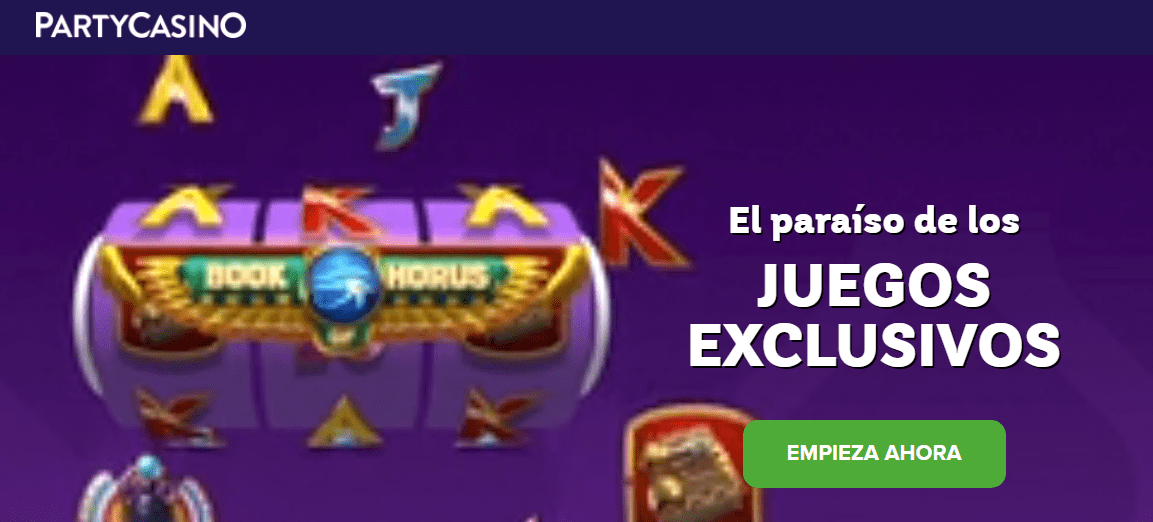 PartyCasino  is one of the last online operators to form part of the gaming industry in Spain. Although it is a recent online casino, it has the credibility, reliability and experience of one of the large business groups in the sector. Some will think that PartyCasino is the little brother of Bwin and it is not like that, since it has solvency, transparency, an extensive catalog of games and many other things that make it a special casino.
ElectraWorks' career has allowed him to enter easily and understand the needs and preferences of Spanish players. The best thing about this operator is undoubtedly its exclusive games section. And the exclusivity is well regarded and rewarded by the players.
If PartyCasino stands out for something, it is for its wide selection of slot games. However, his commitment to blackjack games has made us fall in love. PartyCasino is firmly committed to this traditional game that players love so much. It is possibly one of the most varied and rich gaming offers on the Spanish market. It has pleasantly surprised us, since some online casinos have forgotten about it. In this section you will find some more classic titles as well as other more groundbreaking and original ones. If we have to stay with only one, we choose without hesitation, PartyCasino Blackjack Pro. If you can, do not hesitate to try it.
They also have an interesting bingo games section. Video bingo is all the rage and PartyCasino is aware of it. For this reason, they are committed to offering an interesting variety of games that are very different from each other.
Slots PartyCasino Spain
As we have said before, if PartyCasino stands out for something, it is because of its slots section. In recent years, slot games have undergone an incredible evolution and today, it is possible to find true works of art. Technology mixed with design, creativity and emotion.
How did they get such a complete catalogue? Betting on the best software providers and above all for offering exclusivity. At PartyCasino you will find exclusive slots, you can only play from the website. They also have some of the best national and international software providers such as MGA Games, Pragmatic Play, Blueprint, Red Tiger, NetEnt, Microgaming, Novomatic or YGGDRASIL.
If it's variety you're after, then PartyCasino might be the operator you're looking for. They currently have more than 1,800 slots. A figure within the reach of very few online casinos, to which new titles are added periodically.
You can find any theme you want: cinema and television, mythology and Egypt, music, Spanish celebrity, adventures, science fiction, sports,… Let yourself be surprised by an incredible catalogue. In addition, to make the selection easier, they are cataloged by news, favorites, jackpots, exclusives, by software provider,…
PartyCasino Live Games
The gaming industry is constantly evolving and developing. The professionals seek to satisfy the needs of the players by developing new games where excitement and fun are evident. In recent years, players and the industry itself have been diving into the depths of live gaming. There is no reference online casino that does not have a wide range of different options for live games. The players order and the industry responds.
Roulette is one of the most iconic casino games. If before it was mandatory to move to a physical casino, now it is no longer necessary. The excitement of the game can be experienced from anywhere and with live dealers.
PartyCasino has an extensive catalog of live roulette games. A considerable variety of different games that will surely delight the most demanding users. If we have to stay with a game, without a doubt, those of the house PartyCasino Roulette emotion and PartyCasino autoroulette. There are other titles that you find in other casinos, but not these two in particular.
Welcome bonus
"According to the Royal Decree of Commercial Communications 958/2020, casinos in Spain cannot offer bonuses to new players from May 1, 2021. Promotions are only available to players 30 days after registration and verification of the check".
So if you want to get a welcome bonus or any other bonus, we recommend that you go directly to the operator's website and there you can get all the information you need. Review PartyCasino our honest opinion, bonuses.
How to start playing at PartyCasino?
It is possible that by now you have gotten the itch to try some of PartyCasino's casino games and it is not surprising, since the game offer is unbeatable. If so, you should know that in order to play it is an essential requirement to open an account.
Access PartyCasino.
Click on registration and create an account with email, username and password.
Fill in the data, date of birth, ID, address,…
Verify and send the necessary documentation.
Deposit money
Enjoy and play responsibly.
The game is safe as long as it is played with caution, prudence and responsibility. Otherwise it can become an addiction. Play responsibly and play for fun. You should also know that lucrative gambling in Spain is only allowed for adults over 18 years of age. Minors cannot play physically or online.
Payment methods accepted at PartyCasino
What payment methods are accepted at PartyCasino?
Visa
MasterCard
Maestro
Skrill
Neteller
Paysafecard
PayPal
Muchbetter
Bizum
PartyCasino app
Another of the fundamental aspects of an online casino is having an app. PartyCasino has a completely free application for all devices, both Android and iOS. So all you have to do is download the app on your mobile and enjoy all the games with the convenience of an app.
In the PartyCasino app you can access 1800 slots, exclusive slot games, blackjack and roulette. In addition to many other surprises and services.
Contact PartyCasino Spain: customer service
If there is one aspect that determines and defines online casinos, it is customer service. A giant in the industry must have an efficient, effective, fast and above all decisive service. It is useless to have a huge catalog of games if a player has a problem and there is no one from the casino who can solve it.
How could it be otherwise, PartyCasino has personalized attention 24 hours a day. The fastest way is through chat. Any of your staff attends quickly and efficiently. You can also get in touch by email, phone.
Markets in which PartyCasino operates
PartyCasino is an international operator with a long history in Europe and other countries in Africa and America. It landed in Spain in 2019, but it is operational in other countries such as Germany, Austria, Belgium, Bulgaria, Denmark, France, Italy, Malta, the United Kingdom, South Africa and the Dutch Caribbean.
It has international and national licenses, as is the case in Spain.
Pros and cons
Pros
Trajectory and history of the operator
User reputation
+1,800 casino games
apps
24 hour chat service
Payment methods
Cons
Sometimes Bwin can overshadow you
Our experience and how PartyCasino could improve
PartyCasino is an international brand with an extensive history behind it. An online operator with a presence in some European countries and others outside of it. It has only been operating in the Spanish market for a few years, and in this time it has shown that it is one of those operators that is here to stay. PartyCasino is one of those operators that once you try, you decide to repeat. And it's not only us who say this, but the thousands of users who trust them daily.
Our experience at PartyCasino is second to none. A fantastic and unforgettable experience that we are looking forward to repeating. And it is that the catalog of games is immense. Regardless of the game you choose, the offer is endless. We have fallen in love with the variety of slots, but on top of that they have exclusive games. Unique games that can only be played if you are a customer. In addition to having the demo option. A great way to try a game without breaking the bank.
What to say about live roulette games. It is probably one of the most solvent proposals on the market. And what we have loved is that they actually bet on blackjack games, something unusual among operators.
One of the things that concerns us the most at Secret Casino Tips is customer service. As we have said, it must be immediate and effective. Problems, doubts must be resolved at any time. If the online casino is operational why not the chat, right? And at PartyCasino they have a 24-hour chat.
We also liked its security and payment privacy. Something very important and to take into account.
There really isn't anything we didn't like about PartyCasino. It is possibly the best catalog of games, a variety of payment methods, 24-hour customer service, incredible software,… We believe that PartyCasino's only drawback is the shadow that its brother Bwin can cast on it. Some will think that he is a little brother, but now you know that this is not true. PartyCasino is a reliable and legal online casino that offers a unique gaming experience.
We also like their commitment to responsible gaming. In these times it is essential to have mechanisms and tools to stop the irresponsible game.
PartyCasino review our honest opinion. What opinion do you deserve?