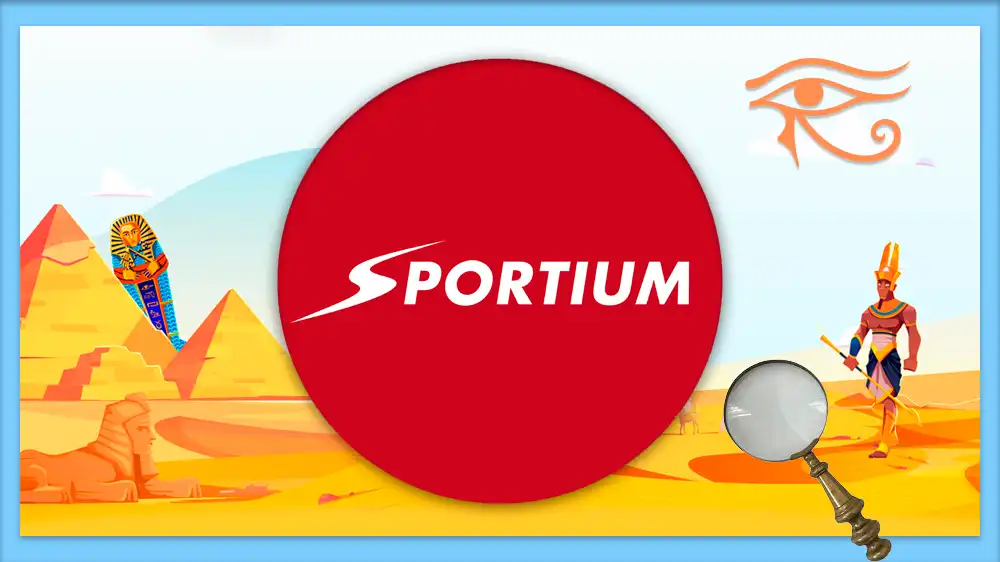 Sportium review our honest opinion. One of the giants of the gaming sector in Spain is Sportium. A Spanish company that was born in 2007 thanks to the synergy of two companies, CIRSA and Ladbrokes Coral Group. Sportium is the number 1 bookmaker in Spain.
Sportium was one of the first bookmakers to open a physical store in the country in 2008. Today it has more than 3,000 points of sale. Sportium has sports betting houses and online casino (slots, roulette, blackjack and poker). In 2013 they decided to enter the digital world by launching their online proposal.
The internationalization of the company has allowed it to become known in Latin America, where it is present in Colombia (2017) and Panama (2016).
Sportium has an important award, the Best Operator of 2019 awarded at the 2019 eGaming Awards.
The Spanish operator, always at the forefront, has its own television channel called Sportium Tv. Thanks to this channel, users can enjoy some live matches.
Sportium review our honest opinion
Why is Sportium a safe site? Is Sportium a scam?
Sportium review our honest opinion about security. Sportium is a 100% secure online casino and bookmaker. So if you play or decide to open an account with this Spanish operator, breathe easy because it is absolutely legal and reliable. It is not a fraud. It has all the necessary licenses to be able to operate in Spanish territory.
Sportium has been registered with the Dirección General de Ordenación del Juego (DGOJ) in Spain since 2012. The license number is 23-11/GAlA65640252/SGR. It also belongs to the National Commission, whose objective is to combat the Manipulation of Sports Competitions and Betting Fraud (CONFAD). Internationally, it is associated with the International Betting Integrity Association.
Sportium has its registered office at Carretera de Castellar number 298 in Terrassa, Barcelona.
Sportium games Spain
Sportium review our honest opinion about games. With four decades of history, one of the pioneers of the game in Spain, fun, quality and entertainment are guaranteed on the Sportium website.
At the sports level, Sportium has opted for some of the most followed disciplines in the country, soccer, basketball, tennis and motor sports. However, users can also bet on other more minority sports such as baseball, darts, horse racing or ice hockey. They are currently the number 1 bookmaker in Spain.
Sometimes operators who are strongly committed to sporting events tend to neglect the casino part. However, in Sportium it is not like that. Those responsible for the company know the importance of creating and having quality and varied content to satisfy users. They have a wide range of table games, roulette, poker, slot games, blackjack or video bingo.
Sportium slots
Sportium review our honest opinion about sports. The DGOJ publishes every year the profile of the online player in Spain. A very complete guide that specifies the preferences of Spanish players regarding the game. This report is very valuable for gaming operators as it shows them the preferences of their customers. It is no coincidence that online casinos are firmly committed to slot games. It is without a doubt, the most demanded.
The Sportium slots section is truly a slot lover's paradise. They have more than 500 different slot games and we already warned that there is something for all tastes. Lovers of cinema and television, Ancient Egypt or Roman times, adventures and science fiction, manga, more traditional games,… At Sportium there are slots for all tastes and even players more demanding will find their game.
If Sportium stands out for something, it is for having exclusive games. 14 to be specific. Perhaps some may think that there are not too many, but they are really good.
MGA Games and Playtech are some of Sportium's game providers. Internationally, Playtech is one of the best and MGA Games has a strong footing not only in Spain but also internationally. This Spanish company has carved out a niche for itself thanks to the Spanish Celebrities series of slots, with titles as famous as Chiquito de la Calzada, Malena Gracia or Manolo el del Bombo.
Sportium Live games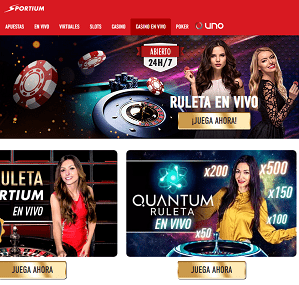 Sportium review our honest opinion about live games. Four decades go a long way and if it is currently one of the industry giants in Spain it is not by chance. Sportium knows how to anticipate and offer high quality news. Sportium Live: live games, play 24/7. No schedules, no need to go to physical casinos.
Today it is essential to have a powerful live games section to compete with other online casinos. Although it is a bit thin. They only have live roulette games, seven to be exact. Some attractive options among which we find renowned titles such as Live Quantum Roulette, Live French Roulette or Live Express Roulette. We miss that blackjack lovers also have live games.
Other Sportium casino games
Sportium review our honest opinion about other games. What else can be found on the Sportium website? Other casino games such as video bingo. A booming sector and increasingly in demand.
Welcome bonus
Sportium review our honest opinion about bonuses. "According to the Royal Decree of Commercial Communications 958/2020, casinos in Spain cannot offer bonuses to new players from May 1, 2021. Promotions are only available to players 30 days after registration and verification of the check".
So if you want to get a welcome bonus or any other bonus, we recommend that you go directly to the operator's website and there you can get all the information you need. Review Lowen Play our honest opinion, bonuses.
How to start playing in Sportium?
Sportium review our honest opinion about play in Sportium. To be able to play in Sportium it is necessary:
Access the Sportium website.
If it is the first time you access and you are new you must register. To do this, you must specify your name and surname and provide other information such as date of birth, ID, email, address,…
Create a username and password that will allow you to enter Sportium.
Verify and send the necessary documentation. Remember that only those over 18 years of age can play games of chance.
Enjoy. When Sportium has verified the account, you can enjoy the game. Play responsibly.
Payment methods
Payment methods accepted at Sportium
Deposits
Visa
Trustly
Paypal
Skrill
Rapid Transfer
Neteller
Paysafecard
Wire transfer
Sportium UNO
Bank withdrawals
Visa
Trustly
Paypal
Skrill
Neteller
Wire transfer
Sportium UNO
Sportium app
Sportium review our honest opinion about app. At Sportium they are aware that a large part of their players use their mobile phones or tablets to enjoy the game. So they have an app. The Sportium app is simple and easy to install. You just have to enter the operator's website and follow the three steps that they mark. First download the setup file. Second, install the application and finally, create an account. It can't be easier, right?
In the Sportium app you will find everything in the online version, sports betting and online casino. And many more surprises that they have prepared for their users.
Contact Sportium Spain: Customer Service
Sportium review our honest opinion about ways to contact. What would an online gaming operator be without good customer service? A failure, we already tell you here. Customer service is equal to or even more important than other services such as games or payment methods. And it is that a client when he has a problem, a doubt, a complaint or a suggestion needs immediacy and quick resolutions. Sportium has a chat service, a telephone number 900447744 and a contact email, [email protected].
FAQs Sportium
Sportium review our honest opinion about FAQs. FAQs Sportium te pueden ayudar a resolver las dudas o preguntas más comunes. No dudes en bucear por este apartado, pero si no encuentras respuesta, contacta con ellos a través del chat, teléfono o email.
Markets in which Sportium operates
Sportium review our honest opinion about markets operates. Sportium is a Spanish company with foreign capital that has been operating mainly in the Spanish market since 2007. A few years later they decided to bet firmly on online gaming and today it is one of the casinos with the best reputation. Internationally, it operates in Panama and Colombia. And they do not rule out opening new international markets.
Pros and cons
Pros
Operator reputation
+500 games: slots, blackjack, roulette and video bingo
Customer Support
Payment and withdrawal methods
App Sportium
Cons
They don't have live blackjack.
Our experience and how Sportium could improve
Sportium review our honest opinion about our experience. Sportium is the number 1 bookmaker in Spain. This is how they specify it on their website. With forty years of experience in the betting sector, Sportium has established itself as a company and as a brand of prestige, responsibility and transparency. It is not only us who say it, but their own players.
A large part of its players speak highly of the gaming experience and we can confirm this. Obviously there are always some dissatisfied users, but they are the least.
Before we can give our most sincere opinion, we like to try, play and ask. And we can say with total certainty that Sportium is an exceptional operator and that it provides gaming guarantees. The experience has been really good. Both when opening an account and playing casino games. Personally, I really like being able to play exclusive games and in Sportium, although they don't have much, they do.
One of the great strengths of Sportium are the payment methods and that is that they also have Bizum. Who does not have Bizum today? They can't make it easier.
And above all we liked that they are committed to responsible gambling. The game can create addiction, for this reason they make available to their players tools to stop it. As they say at Sportium, play safely and for fun.
How could Sportium improve? There is no perfect company and neither is Sportium, and there is always room for improvement. It would not be bad if there was live blackjack and that they had more game providers.
Sportium review our honest opinion. Sportium review our honest opinion. Sportium review our honest opinion