Best slots of July 2021. Summer time and time of new slot games. Game providers are aware of the need to present news to satisfy users. And it is that the summer and the holidays allow many to disconnect from the usual routine and spend an entertaining time playing the different slots. In today's article we present the best slots of July 2021. Refreshing, entertaining and very fun slots.
Best slots of July 2021
Calaveras Explosivas by Habanero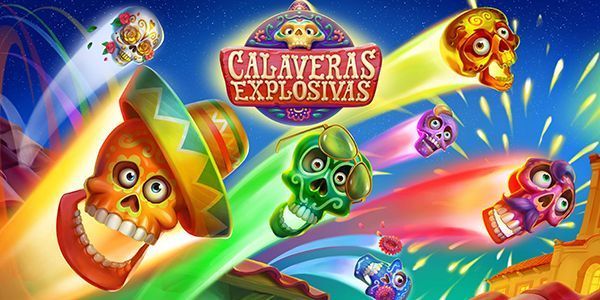 Among the best slots of July2021 we highlight a game that is fun as well as exciting, Exploding Skulls. Surely it satisfies many users. And it is that the Covid pandemic has made it impossible for many to travel and enjoy different cultures.
Calaveras Explosivas
from the game provider Habanero is a slot that evokes the traditional
Day of the Dead festival
. In Mexico the Day of the Dead is remembered with love, affection and respect to the ancestors. Impossible not to recognize the tune of mariachis that moves to the most traditional Mexico. In addition to having incredible visual effects and exclusive and innovative mechanics. It also has the occasional surprise to please the players.
Fortune Reels by Wazdan
The second of the Best slots of July 2021. Traveling on the Internet is always possible. It is not necessary to move or move from home to enjoy other cultures and other surprising experiences. If you are a lover of Asian culture but find it impossible to be there, we recommend a fascinating slot game, Fortune Reels by Wazdan. Enjoy the most ancient festivals in Asia. This game provider has created a visual spectacle, but above all an incredible one that allows the player to win a prize. It is not insured, but it is relatively easy to win a prize. And there are 46,656 ways to win. Fortune Reels offers a Cascading Reel mechanic. Plus wildcards and bonuses.
Jin Ji Bao Xi by Scientific Games
The third best slot of July 2021 is Jin Ji Bao Xi. Despite having a difficult title to pronounce, Jin Ji Bao Xi is one of the most incredible and highly anticipated bets of the summer. One of the highlights of this new Scientific Games slot is that it incorporates the iconic Megaways for the first time.
It is not a novelty as such, but a new, greatly improved version that will surely fascinate users who love Asian culture. Those players who wish to play will find that the chances of getting a prize are higher. Jin Ji Bao Xi have more paylines, higher fixed wins and free spins.
Sálvame Naranja y Limón by MGA Games
The last best slot of July 2021 is for a television program from Spain. One of the most international Spanish providers launches a new slot. MGA Games presents a new product from its successful Spanish Celebrities catalogue. Save me Orange and Lemon slot, a program loved and hated in equal parts is a virtual reality.
A classic slot that combines touches of modernity and above all nods to the controversial Telecinco program. The most characteristic symbols are the orange, the lemon and the tomato. As a house brand, it has four mini-games, Save me Hotel, Save me Show, Save me Famous or Save me a decade.
The Best slots of July 2021, what do you prefer?
The Best slots of July 2021, have you played yet?