There are only a few days left until Christmas. As every year, game providers launch some new slot titles for slot lovers. From Secret Casino Tips we present you the Top 10 Christmas slot. In it you will find the usual titles and some newly created slots.
Top 10 Christmas slot
1. Festive Indulgence
Christmas has come to Microgaming and Santa Claus is ready to hand out many prizes every Christmas. The gaming provider Microgaming launched Festive Indulgence last November in anticipation of Christmas. This magnificent Christmas slot is available for Android and iPhone devices.
It has 5 reels and only 9 paylines, something unusual in this provider. Bets range from 0.01 euros to 45 euros maximum bet. RTP is 96.10%, the standard average for Microgaming games. It has the traditional symbols such as letters and also typical Christmas symbols: Santa Claus, Magic Elves, the traditional Christmas turkey, bells or surprise gifts. It has up to 30 free spins with a 3x multiplier.
2. A Christmas Carol
It is based on the story that British playwright Charles Dickens wrote, A Christmas Carol. Many software vendors have recreated similar slots, however it is one of the most genuine. This is due to the immersive soundtrack, graphics, and stunning 3D animations, named A Christmas Carol.
The company in charge of creating this wonderful Christmas slot is none other than Betsof Gaming. It is currently available for any mobile device. It has 5 reels and 25 pay lines. Among the most iconic symbols found in this game are: Scrooge and the three ghosts from the original tale. Ghosts have a very important mission and it is none other than granting free spins and offering extra jokers
3. Santa Surprise
If there is something that brings us back to childhood it is an image of Santa Claus sitting on the sled and loaded with gifts to deliver the night of December 24. You do not need to travel to Lapland to meet Santa Claus because the Santa Surprise slot will make you revive and travel without having to get cold.
The gaming provider Playtech launched this special and iconic Santa Surprise slot in 2017. It has 5 reels and 20 paylines. RTP is 97.05% and the maximum bet is 1,000 euros. The game allows you to bet 5 coins per payline. The symbols are characteristic of Christmas: Santa Claus himself (joker), the cap of Santa Claus, a fir tree (bonus), bells, snowy houses (scatter), trees with Christmas lights. Santa Surprise slot allows you to get bonus rounds with free spins.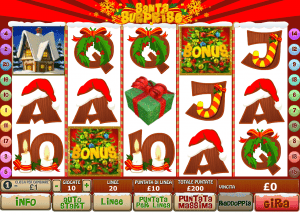 4. Icy

Gems
If there's anything reminiscent of winter, it's a cup of hot chocolate in front of the fireplace. And we say to warm up because thanks to the Icy Gems slot you will be frozen. This slot game is inspired by winter, and although it is not strictly Christmas it had to be in this Top 10 Christmas slot. And is that the main symbols are shiny and very valuable gems. A perfect Christmas gift.
Icy Gems is a game by the British provider Microgaming released in 2018. It has 5 reels, 3 rows and 20 pay rows. The best of the game are the jokers (symbol W). These can replace any other symbol. However, the option to get Re-spins and Superspins raise this standard game to VIP status. Within the Supersins there are three variants: Silver Stage, Gold Stage and Win Big Stage. The latter allows multiplying profits.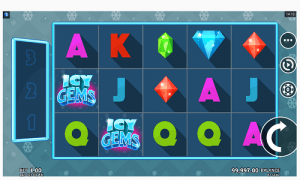 5. Taco Brother Saving Christmas
Mexico is much more than mariachis, tequila and tacos. If the most popular Mexican holiday is the Day of the Dead, Mexican Christmas is not far behind. For this ELK Studios has created an excellent and vibrant slot game inspired by the brothers Taco, Pepe, Pico and Paso. They will be in charge of celebrating Christmas in the town. And for this they will have to fight against the powerful and evil Captain Díaz.
Taco Brother Saving Christmas was launched in 2016 by ELK Studios and has 243 winning lines and 5 reels. The Return to Player is 96.03%. The minimum bet is 0.1 euros and the maximum is 50 euros. Free spins, bonus rounds and wilds are available to make it easier to win a prize. This slot can be played using three different strategies: Jumper, Leveller and Booster.
6. Holly Jolly Penguins
There is nothing more bucolic than watching Jingle Bells penguins sing. It is true that this time these mischievous penguins do not sing this popular Christmas carol, but they are still adorable. And the Microgaming Holly Jolly Penguins slot is simple, entertaining and with good graphics and sound.
This time Holly Jolly Penguins has 5 reels and 45 paylines. The minimum bet is 1 cent and the maximum is 2 euros per play. Scatter feature allows you to get up to 80 free spins, as long as there is a matching symbol combination on the reels. The wild cards are penguins.

7. Selfie Elfie
What would Christmas be without Santa's helpers? Elves apart from working very hard throughout the year to make gifts for children and not so children, in this slot machine they distribute money. And you can also enjoy the Christmas music that comes with the game.
The provider Playtech has in its ranks one of the most traditional Christmas slots, easy to play and with many possibilities of obtaining a prize. Selfie Elfie has 5 reels and 40 paylines. Free spins available.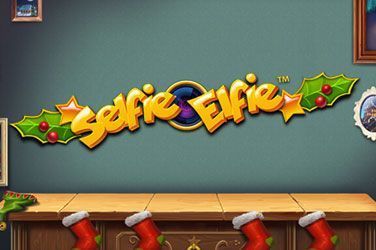 8. Santa Wild Ride
On the night of December 24, Santa Claus lives a race against the clock and he only has that night to deliver all the gifts to children and not so children. So in order to arrive on time and that no one is left without a gift, they have decided to motorize themselves. He has given the reindeer a free night, he has climbed on his motorcycle and promises to have a fun time for anyone who wants to accompany him on the Santa Wild Ride.
This fun, exciting and fast-paced slot is signed by one of the best gaming providers, Microgaming. Santa Wild Ride was launched in 2010 and since then it is one of the most popular slots during the Christmas season. It has an RTP of 96.4%, it is in the average of the company. It has 5 reels, 3 rows and 243 paylines. Santa Wild Ride has free spins, additional reward multipliers and bonus round.
9. Wild Rockets
After receiving Christmas gifts, eating polvorones and nougats, and family lunches and dinners, it is time to have fun playing some music. This time we are not going to listen to any Christmas carol, but the soundtrack of firecrackers and fireworks typical of New Years Eve. And for this we are going to accompany two young people with a lot of desire to party.
Undoubtedly, this slot is still one of the most popular among players and is due to the 720 pay lines it has. Wild Rockets provider is NetEnt and launched this slot in 2012. It has 5 reels and the house edge is 3.30%. It has free spins, bonus rounds and wilds. The maximum Wild Rockets jackpot is 480,000 coins.It can be played from any device, both Android and iOS.
10. Deck the Halls
Another Christmas classic is Deck the Halls in which Christmas carols are joined to traditional symbols such as the Christmas tree with its bright and striking balls, the bells of Bethlehem, the star that guides the Magi or gifts. It has a classic design but this slot catches you from the first moment thanks to the music related to Christmas. Graphics are quite acceptable.
This slot is signed by Microgaming and was released in 2008 and has a RTP of 95.38%. The minimum bet is 0.01 and the maximum is 15 euros. It has 5 reels and 30 pay lines. To make it more exciting, Deck the Halls has wilds, free spins, and multipliers.
Enjoy with our Top 10 Christmas slot¡
Ho, ho, ho, …. MERRY CHRISTMAS.