The seventh art's fascination with the world of gaming and entertainment is a classic in movies. Throughout the history of cinema, countless films of all genres have been shot: comedy, drama or thriller. Undoubtedly, Hollywood has opened a unique window for us to discover the ins and outs, falsehoods and some chimeras about casino games. All movies related to the world of gaming have a common denominator: emotion and intrigue. Today at Secret Casino Tips we present the Top 10 best casino movies.
Top 10 best casino movies
1- Casino, 1995
Director Martin Scorsese directed this criminal drama, catapulting it as one of the masterpieces of cinema related to the world of casino. Casino is based on the true story of "Lefty" Rosenthal and Tony "The Ant" Spilotro, which the writer Nicholas Pileggi captured in the book Casino. The main actors are Robert De Niro, Sharon Stone and Joe Pesci.
In this crime drama Scorsese reflects the two strands of the game in Las Vegas: the glamor, power and money of the gaming world with cruelty, greed and crime. Robert De Niro plays Sam Rothstein, Ace, director of the Tangiers casino related to organized crime in Las Vegas. Ace's life changes when her great childhood friend Nicky Santoro (Joe Pesci) appears in her life to turn her upside down.
2- 21 blackjack, 2008
21 Blackjack is based on the book Bringing down the House: the Inside Story of Six MIT Students who Took Vegas for Millions by Ben Mezrich. This magnificent film is directed by director Robert Luketic and is a masterpiece in the art of card counting.
The feature film narrates the life of Ben Campbell (Jim Sturgess) who longs to be a doctor, but does not have the financial resources. His math teacher, Micky Rosa (Kevin Spacey), aware of his great talent with numbers, proposes to join a group of students at the Massachusetts Institute of Technology. This group travels to Las Vegas on weekends in order to use their mathematical knowledge to count cards and earn lots of money. The thirst for power and greed can cause you many problems
3- The Pelayos, 2012
In this classification of the best casino movies, the quintessential Spanish movie about the casino world, The Pelayos, could not be missing. The feature film is based on the true story of the Gonzalo García-Pelayo family who, after years of analysis, drew up a legal and infallible method on the imperfection of roulette. This film is directed by Eduard Cortés and among the protagonists Daniel Brühl, Miguel Ángel Silvestre, Luis Homar and Blanca Suárez stand out.
The feature film tells the story of a family without great professional aspirations. One day the patriarch decides to devise a strategy to unseat casinos around the world thanks to the imperfection of roulette. For years this family will make the game their operandi mode and tame real fortunes thanks to the casino.
4- Ocean's Evelen, 2001
El director Steven Soderbergh realizó un remake de la película de 1960 con el mismo nombre. Ocean's Eleven es uno de los mayores taquillazos del mundo del cine durante la primera década del siglo XXI. Sin lugar a dudas, Ocean's Eleven tiene entre su reparto a los mejores y más populares actores de Hollywood: Brad Pitt, George Clooney, Julia Roberts, Matt Damon y Andy García.
El largometraje cuenta la historia de un grupo de ladrones que tienen como objetivo realizar el mayor atraco de la historia en tres de los casinos más importantes de Las Vegas: El Bellagio, Mirage y el MGM Grand. Aventuras, obstáculos y giros inesperados tendrán cabida durante toda la película con el fin de llevarse 150 millones de dólares.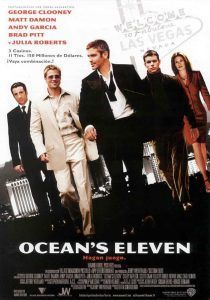 5- Rounders, 1998
American director John Dahl is in charge of directing this crime drama film, Rounders. People who travel from city to city to play casino games betting large amounts of cash are called "Rounders." It is one of the most important films in the film industry about the world of poker and big bets. It stars great actors: John Malkovich, Matt Damon, and Edward Norton.
Mike McDermott (Matt Damon) is a brand new law student with great poker skills. He decides to leave the game world and focus on his studies after losing all his money in a game with the Russian mobster Teddy KGB (John Malkovich). However, the release from prison of his friend Lester "Gusano" Murphy will take a radical turn in his life. They will dive into the world of poker betting to pay off "Worm" debts
6- Casino Royale, 2006
In this Top 10 of the best casino movies could not miss the secret agent James Bond. Casino Royale is a remake of the eponymous 1967 film, based on the novel by English writer Ian Fleming. It is the twenty-first movie in the film series and the first movie in which Daniel Craig plays Agent 007. It is without a doubt one of the most beloved and remembered movies by casino lovers.
On this dangerous and exciting mission, Agent James Bond must attend a Texas Hold'em poker game in Montenegro. There he will have to prevent Le Chiffre, banker of the main terrorists in the world, from winning the game and fleeing with the money. Le Chiffre needs to get his clients' money back to avoid violent retaliation. Agent 007 will experience the most difficult game of his career.
7- Fear and Loathing in Las Vegas, 1998
Writer Hunter S. Thopson wrote Fear and Loathing in Las Vegas in 1971, and film director Terry Gilliam directed it years later. It has Benicio del Toro and Johnny Deep as protagonists. Today it is considered a cult film, however, it had a bad reception by the public at its premiere. Thanks to the special edition DVD release, Fear and Loathing in Las Vegas, it became one of the must-have movies for casino lovers.
The black feature film takes place during an amazing journey in which Hunter S. Thompson (Johnny Deep) must cover a sporting event for a magazine accompanied by his lawyer. Drugs, alcohol, illegal gambling, police, camels, problems and danger come together to try to achieve the desired "American Dream".
8- The Hangover, 2009
What happens in Las Vegas stays in Las Vegas. The Hangover is directed by Todd Phillips and stars Bradley Cooper, Ed Helms, Justin Bartha and Zach Galifianakis. The good reception by the public encouraged the industry to make two sequels: The Hangover Part II and The Hangover Part III.
Never before has a bachelor party given so much to talk about. A group of four friends decide to celebrate the bachelor party for one of them in Las Vegas. After a night of drugs, alcohol and debauchery, they wake up without remembering anything that happened the night before. However, the most serious thing is that the groom has disappeared.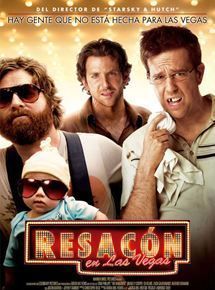 9- Rain Man, 1988
Film director Barry Levinson directed Rain Man in 1988 and stars Tom Cruise and Dustin Hoffman. This drama is one of the cult movies related to the game of blackjack.
Rain Man has as a starting point the personal relationship between two brothers who do not know each other and do not get along at first. Raymond Babbit (Dustin Hoffman) is autistic and presents an amazing genius for playing blackjack. This skill will be squeezed by his egomaniac brother Charlie (Tom Cruise) who will use it to earn money in Las Vegas
10- Croupier, 1998
British director Mike Hodges directed this majestic play in 1998 reflecting the gaming world and casinos from the dealer's perspective. The leading role is played by a young Clive Owen. It also highlights the performance of Gina Mckee and Nicholas Ball.
Croupier tells the story of a young man who longs to be a writer and who needs to be employed as a croupier in a casino to pay for his life and thus have inspiration to write his first novel. Jack Manfred (Clive Owen) will be involved in some shady affairs that will make him lose his mind, reason and heart.
So far the Top 10 best casino movies, which movies would you add?
Learn all the tricks and casino strategies in our sections: Blackjack, Roulette and Slot.